← Bára Málková – zpěv, tamburína cz
Bára Málková – zpěv, tamburína fr →
Bára Málková – zpěv, tamburína eng
Březen 21, 2016
Bara Malkova
vocal, tambourine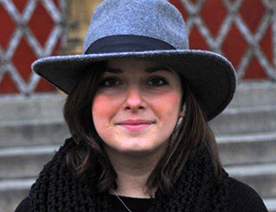 Bara is the charm of the band and all the Julls love her platonic way. She´s got a rocker´s soul, trained by her five older brothers and by Femme Fatale and Malvina from Brittany. After twelve years of diligently studying the piano, Jull Dajen now lets her play the tambourine. With her lovely voice she interprets the Jull Dajen repertoire in Czech, French and English. These days, instead of studing music, she engages in politics.
This entry was posted in
Uncategorized
. Bookmark the
permalink
.
← Bára Málková – zpěv, tamburína cz
Bára Málková – zpěv, tamburína fr →
Comments are closed.