Jull Dajen sídlí v Praze. Od roku 2002, kdy kapela vznikla, projezdila se svojí originální hudbou festivaly a kluby po celé Evropě. Zkrátka, ti chlapi umí publikum pořádně nažhavit a rozhýbat. Hudba Jull Dajen čerpá z hlubokých studní keltské, skandinávské a bretaňské lidové hudby, jež je přetavena do originální směsice zvuků příčné flétny, houslí, akordeonu a kytary. Tento osobitý tvar okovali šla-pající rytmikou basy a bicích, která dodává tah. Na nahrávkách a koncertech Jull Dajen se kromě tradiční hudby nedají přeslech-nout i vlivy soudobých multi-žánrových hudebníků jako jsou Manu Chao, JPP, Fairport Con-vention nebo Jethro Tull.
Ke koncertním vrcholům skvělé sezóny 2015 patřilo bezesporu vystoupení ve francouzském městě Lorient, kde Jull Dajen předvedli vše podstatné ze svého repertoáru, instrumentálky i skladby zpívané v češtině, angličtině a francouzštině. Kro-mě zakládajícího člena kytaristy a kapelníka Petra Štramberského najdete v současné sestavě také flétnistu Dušana Navaříka, harmonikáře Františka Tomáška, houslistu Pavla Cingla, bas-kytaristu Jardu Kestřu Kestřánka, bubeníka Mirka Pekaře a charismatickou zpěvačku Báru Málkovou.
Na světě je nové album Salamander, které kapela pokřtila v Bretani na Lorient Interceltic Festival a také v Malostranské Besedě v Praze s kmotrem Frantou Čeným (Čechomor). Na CD Salamander vyšla recenze v prestižním časopisu New York Music Daily.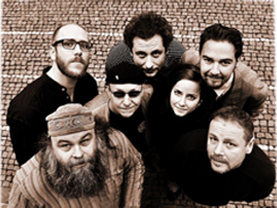 Band:
Petr Strambersky – acoustic guitar
Dusan Navarik – flute
Frantisek Tomasek – accordion
Jarda Kestra Kestranek – bass
Pavel Cingl – violin
Mira Pekac Pekar – drums
Bara Malkova – vocal

Since 2002, dynamic Prague-based, glo-bally-inspired musi-cal ambassa-dors Jull Dajen have entertained audiences and energized dancers at festivals and clubs across Europe. Jull Dajen draw deeply on Celtic, Scandinavian and Brittany Coast folk music while taking those rich traditions to new places with their distinctive blend of flute, violin, accordion and guitar over a lively groove. In addition to traditional music, the influences of modern-day cross-pollinators like Manu Chao, JPP, Fairport Convention and Jethro Tull echo through Jull Dajen's acclaimed studio and live albums and acclaimed concert tours. Concert highlights for 2015 include the Interceltique Festival in Lorient, France as well as what Jull Dajen's substantial repertoire comprises both instrumentals and vocal tunes sung in Czech, English and French. In addition to group founder and bandleader Petr Strambersky on acoustic guitar, the band's current lineup includes flutist Dusan Navarik, accordionist Frantisek Tomasek, violinist Pavel Cingl, bassist Jarda Kestra Kestranek, drummer Mirek Pekar and vocalist Bara Malkova.
Jull Dajen released a new album "Salamander". They had two release parties – one at Inter-celtique Festival in Lorient (Brittany, France), the second one at Malostranská Beseda Prague (Czech Republic) with František Černý (Čechomor) as a godfather. The CD Salamander was reviewed in a prestigious music magazine New York Music Daily.


Depuis 2002, Jull Dajen, les ambassa-deurs de choc de la musique d'inspiration mondiale de Prague ont amusé un grand nombre de publics et de danseurs enthousiastes de festivals et bars à travers l'Europe. Jull Dajen se nourrit directement de la musique folklorique celte, scandinave et bretonne tout en apportant à cette riche tradition musicale une touche bien particulière à travers un mélange original et animé de flûte, violon, accordéon et de guitare.
En plus de la musique traditionnelle, des influences modernes à la croisée de Manu Chao, JPP, Fairport Convention et Jethro Tull résonnent dans le célèbre studio d'enregistrement de Jull Dajen, dans les albums live et pendant ses tournées à succès. Temps fort de l'année 2015, leur concert au festival interceltique de Lorient en France avec un important répertoire comprenant à la fois des titres instrumentaux et vocaux, en anglais et en français.
Actuellement, le groupe se compose, outre son fondateur et leader Petr Strambersky à la guitare acoustique, du flûtiste Dusan Navarik, de l'accor-déoniste Frantisek Tomasek, du violoniste Pavel Cingl, du bassiste Jarda Kestra Kestranek, du batteur Mirek Pekar et de la chanteuse Bara Malkova.
Nouveau CD Salamander. Critiques dans le prestigieux New York Music Daily.